Receive your monthly account statements from the Triple-A dashboard with just a few clicks.
Step 1: Log into your dashboard and click on Statements on the left sidebar.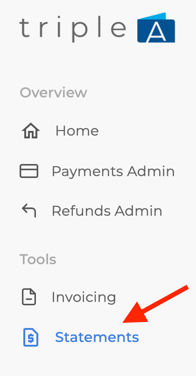 Step 2: Click on the calendar icon and select the month you wish to receive the account statement for. Then, click on Generate Documents.



Step 3: You will shortly receive the requested documents with the associated breakdown files (payments, payouts, refunds, deposits, withdrawals) via email in PDF and CSV format.

Note that if you already requested a statement, you will have to wait until it is completed before requesting another one.

Any further questions? Feel free to send an email to support@triple-a.io. We will be more than happy to help!